The 2017 Mountain West Football Twitter List
---
From Josh Allen to Zamore Zigler, you won't find a more complete list of Mountain West football Twitter users anywhere else.
---
– Contact/Follow @MattK_FS
Want to make sure you're following everyone on your favorite Mountain West team? Look no further.
The Cosmopolitan in Las Vegas is once again the place to be, as Mountain West Conference coaches and players have descended upon the desert for this year's media summit. We here at Mountain West Wire have compiled, in the last few years, a strong and comprehensive list of on- and off-field figures — players, coaches, media folks and more — to follow on everyone's favorite 140-character social media platform for all of the action here and into the fall.
Once again, the list has been revised and is better than ever! If there are any MWC folks who you feel deserve to be included, feel free to leave suggestions within the comments, preferably with the "@" handle included.
The MWCwire Football Staff
Our official Twitter feeds – MWCwire and MWCwire Recruiting
Jeremy Mauss, our fearless leader
Matthew Kenerly, football editor and Fresno State writer
Brandon Blake, Nevada writer
Adrian Chavez, New Mexico writer
Connor Comeau, Utah State writer
Don't Warrior About It and Dylan Fox, Hawaii writers
Peter Elliott, recruiting writer
Josh Fredlund and Brad Hubbard, Colorado State writers
Ana Kieu, San Jose State writer
Ted McGovern and Erwin Mendoza, San Diego State writer
Keith Scheessele, UNLV writer
Josh Webb, Fresno State writer
National and Mountain West Football Coverage
CollegeFootballNews.com, obviously
The Associated Press Top 25 Poll
The Forgotten 5 – F5 Mountain West, F5 Air Force and Chris Hondros
Some of our favorite writers: Pete Fiutak (College Football News); Nicole Auerbach, Paul Myerberg, Dan Wolken (USA Today); Tom Fornelli (CBS Sports); Kevin McGuire (NBC Sports); Bruce Feldman, Andy Staples (SI); Matt Brown (Sports on Earth); Dan Wetzel (Yahoo!); Bill Connelly, Ian Boyd and Spencer Hall (SB Nation); Stewart Mandel (The All-American); Brian Fremeau (Football Outsiders); Phil Steele
Mountain West football on TV: Big Ten Network, CBS Sports Network, Pac-12 Network, AT&T SportsNet Rocky Mountain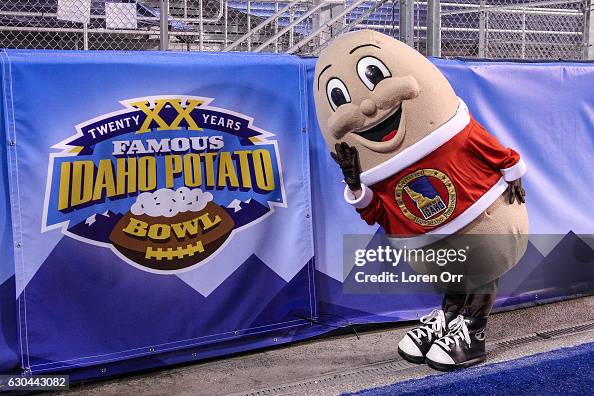 Mountain West Bowls (RIP San Diego County Credit Union Poinsettia Bowl)
Las Vegas Bowl, Famous Idaho Potato Bowl, Gildan New Mexico Bowl, Hawai'i Bowl, NOVA Home Loans Arizona Bowl, Cactus Bowl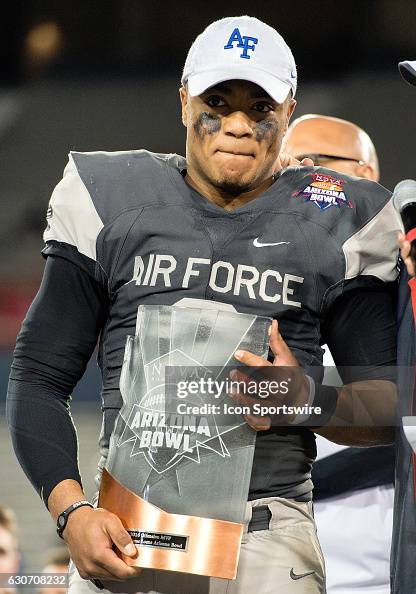 Air Force Falcons
The official account of Air Force Falcons football
Head coach Troy Calhoun; coordinators Mike Thiessen and Steve Russ Jr.
The local beat – Brent Briggeman (Colorado Springs Gazette)
Broadcasters – Jim Arthur, Jesse Kurtz
Mascot – The Bird
Quarterback – Arion Worthman
Running back – Parker Wilson, Benton Washington
Wide receiver – Ronald Cleveland, Lesley Dalger, Geraud Sanders, Ben Waters, Andrew Smith
Tight end – Ryan Reffitt
Offensive lineman – Austin Cutting, Griffin Landrum
Defensive lineman – Micah Capra, Ryan Darby, Ben Harris
Linebacker – Andrew McAdams, Grant Ross
Defensive back – Marquis Griffin, James Jones, Bryce VonZurmuehlen
Specialists – Cecil Moskowitz, Luke Strebel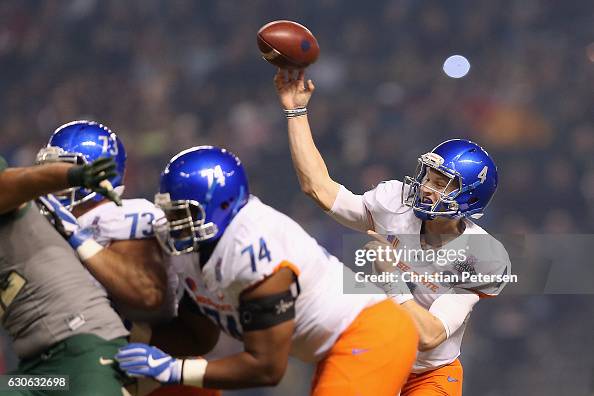 Boise State Broncos
The official account of Boise State Broncos football
Head coach Bryan Harsin; coordinators Andy Avalos and Zak Hill
The local beat – Dave Southorn (Idaho Statesman), B.J. Rains (Blue Turf Sports), Jeff Caves, Jay Tust (KTVB)
The school newspaper – The Arbiter
Broadcasters – Bob Behler, Pete Cavender
Mascot – Buster Bronco
Quarterback – Montell Cozart, Jake Constantine, Tommy Stuart, Brett Rypien
Running back – Robert Mahone, Jake Shaddox, Ryan Wolpin
Wide receiver – Christian Blaser, Julian Carter, Octavius Evans, Bryan Jefferson, Cartell Thomas, Cedrick Wilson, Akilian Butler, A.J. Richardson, Brock Barr, Sean Modster, Austin Cottrell
Tight end – John Bates, Chase Blakley, Nick Crabtree, Alec Dhaenens, Matt Pistone, Jake Roh
Offensive lineman – Kole Bailey, Ezra Cleveland, Austin Dixon, Mason Hampton, Donte Harrington, Garret Larson, John Molchon, John Ojukwu, Eric Quevedo, Jake Stetz, Zachary Troughton, Ben Vering
Defensive lineman – Daniel Auelua, Emmanuel Fesili, Jabril Frazier, Chase Hatada, Aisa Kelemete, Matt Locher, Sonatane Lui, David Moa, Kayode Rufai, Paul Semons, Jabari Watson, Curtis Weaver, Sam Whitney
Linebacker – Bruno DeRose, Will Heffner, Joseph Inda, Tyson Maeva, Ezekiel Noa, Nick Provenzano, Solo Taylor, Leighton Vander Esch, Riley Whimpey, Blake Whitlock, Desmond Williams
Defensive back – Marques Evans, Jordan Happle, Reid Harrison-Ducros, Tyler Horton, Tyreque Jones, Roman Kafentzis, Robert Lewis, Kekoa Nawahine, DeAndre Pierce, Evan Tyler, Jalen Walker, Michael Young, Cameron Hartsfield
Specialists – Haden Hoggarth, Joel Velasquez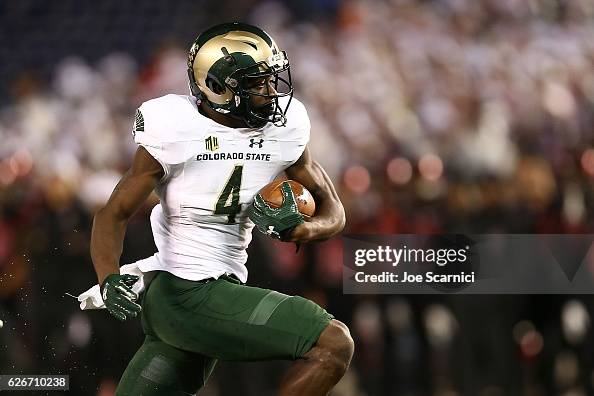 Colorado State Rams
The official account of Colorado State Rams football
Head coach Mike Bobo; coordinators Will Friend and Marty English
The local beat – Mike Brohard (Loveland Reporter-Herald), Rich Kurtzman (Mile High Sports), Keegan Pope (Inside the Rams), Kelly Lyell (Fort Collins Coloradoan), Matt Stephens (Denver Post)
The school newspaper – Justin Michael, Collegian Sports
Broadcasters – Brian Roth, Marty Cesario
Mascot – CAM the Ram
Quarterback – Collin Hill, Justice McCoy, J.C. Robles, Nick Stevens
Running back – Rashaad Boddie, Dalyn Dawkins, Marvin Kinsey, Izzy Matthews, Nate Ryken, Bryce Peters
Wide receiver – Detrich Clark, Michael Gallup, Warren Jackson, E.J. Scott, Darius Wise, Olabisi Johnson, John Freismuth
Tight end – Cameron Butler, Dalton Fackrell, Griffin Hammer, Mitch Parsons
Offensive lineman – John Blasco Jr., Kieran Firment, Salofi Gaoa, Nicho Garcia, Ben Knox, Luis Lebron, Colby Meeks, Jeff Taylor, Jake Bennett, Zack Golditch, Brett Jordan, Jordan Benson, Trae Moxley
Defensive lineman – Christian Colon, Jamori Fox, Ellison Hubbard, Richard King, Toby McBride, Jakob Buys, Colton Foster, Darnell Thompson
Linebacker – Patrick Elsenbast, Arjay Jean, Patrick Moody, Trey Sutton, Tre Thomas, Deonte Clyburn, Evan Colorito, Kiel Robinson, Josh Watson
Defensive back – Robert Awunganyi, Zoauntarrious Brunt, Darius Campbell, Dante Carnessale, Christian Cumber, Jordan Fogal, Anthony Hawkins, Houston Haynes, Jamal Hicks, Kevin Nutt Jr., Justin Sweet, Jadon Walker, A'Keitheon Whitner, Shun Johnson, Jake Schlager
Specialists – Ryan Stonehouse, Wyatt Bryan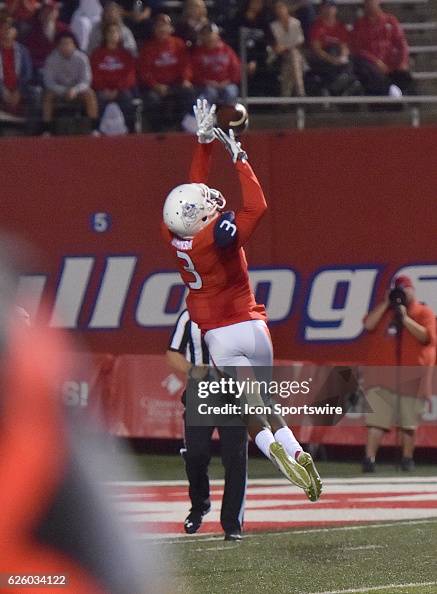 Fresno State Bulldogs
The official account of Fresno State Bulldogs football
Head coach Jeff Tedford; coordinators Kalen DeBoer and Orlondo Steinauer
The local beat – Anthony Galaviz, Robert Kuwada, Marek Warszawski (Fresno Bee); Jackson Moore, Lucio Ourique (BarkBoard); Andrew Marden (KSEE); Eddie Hughes (KFSR)
The school newspaper – The Collegian
Broadcasters – Paul Loeffler, Cameron Worrell
Mascot – Victor E. Bulldog
Quarterback – Brent Bailey, Marcus McMaryion, Chason Virgil, Jorge Reyna, Christian Rossi
Running back – Romello Harris, Josh Hokit, Jordan Mims, Dejonte O'Neal, Ronnie Rivers, Saevion Johnson, Deonte Perry
Wide receiver – Patrick Elima-Jeune, Anthony Grayson, Derrion Grim, Kevin Parker, Namani Parker, Zane Pope, Frank Dalena, Delvon Hardaway, Keesean Johnson, Jamire Jordan, Da'Mari Scott
Tight end – Kyle Hendrickson, Gunner Javernick, Daniel Moraga, Jared Rice, Kyle Riddering, Donte Coleman
Offensive lineman – Marc-David Bien-Aime, Netane Muti, Matt Smith, Micah St. Andrew, David Patterson, Aaron Mitchell, Christian Cronk, Shane Gama, Ben Northup, Ryan Popolizio, Syrus Tuitele, Zelan Tupuola, Quireo Woodley
Defensive lineman – Patrick Belony, Richard Cage, Damien DeGruy, Emeka Ndoh, Leevel Tatum III, Kevin Atkins, Malik Forrester, Jasad Haynes
Linebacker – James Bailey, Alex Cruz, Tanner Rice, Messiah Tyler, Tobenna Okeke, Stephen Van Hook, Robert Stanley, Jeffrey Allison, Tainoa Foster, Trent Soechting, Andrew Wright
Defensive back – Matthew Boateng, Chris Coleman, Sherman Coleman, Jackson Finch, Wylan Free, Ka'Lonn Milton, Aaron Mosby, Michiah Quick, Justin Rice, DeShawn Potts, Jalen Smith, Mike Bell, Juju Hughes, Jaron Bryant
Specialists – Nathan De Jager, Jimmy Camacho, Blake Cusick, Kody Kroening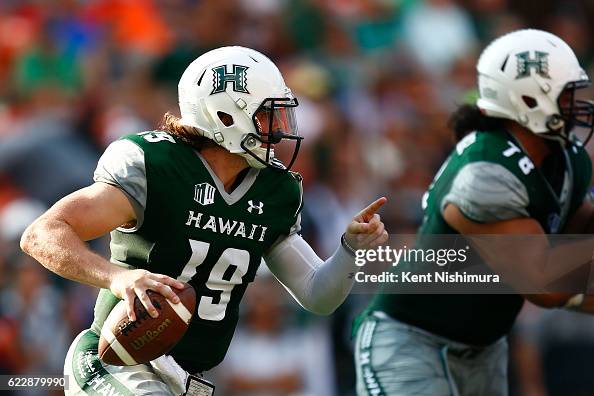 Hawaii Warriors
The official account of Hawaii Warriors football
Head coach Nick Rolovich; coordinators Brian Smith and Legi Suiaunoa
The local beat – Stephen Tsai (Honolulu Star-Advertiser), Hawaii Warrior World
The school newspaper – Ka Leo O Hawaii
Broadcasters – Robert Kekaula, Bobby Curran, John Veneri
Quarterback – Dru Brown, Cole Brownholtz, Kyle Gallup, Karson Greeley, Justin Uahinui
Running back – Freddie Holly III, Genta Ito, Hekili Keliiliki, Miles Reed, Ryan Tuiasoa
Wide receiver – Ammon Barker, Isaiah Bernard, Keelan Ewaliko, Drake Stallworth, Kalakaua Timoteo, Davine Tullis, John Ursua, Dylan Collie
Tight end – Metuisela 'Unga, Dakota Torres
Offensive lineman – Stephan Bernal-Wendt, Asotui Eli, Emil Graves, J.R. Hensley, Brandon Kipper, Chris Posa, Fred Ulu-Perry, Micah Vanterpool, John Wa'a, Matt Norman
Defensive lineman – Zeno Choi, Wesley Faagau, Maxwell Hendrie, Makai Manuwai, Anthony Mermea, Viane Moala, Joey Nu'uanu-Kuhi'iki, Kaimana Padello, Doug Russell, Taaga Tuulima, David Manoa, Penitito Faalologo
Linebacker – Rashaan Falemalu, Dayton Furuta, Ikem Okeke, Jeremiah Pritchard, Tumua Tuinei, Max Broman, Jahlani Tavai, Dayton Furuta, Solomon Matautia, Dany Mulanga, Russell Williams Jr.
Defensive back – Austin Borengasser, Donovan Dalton, Jay Dominique, Rojesterman Ferris II, Eugene Ford, Akil Francisco, Cameron Hayes, Kalen Hicks, Manu Hudson-Rasmussen, Daniel Lewis, Damario McLean, Scheyenne Sanitoa, Keala Santiago, Zach Wilson
Specialists – Ryan Meskell, Alex Trifonovitch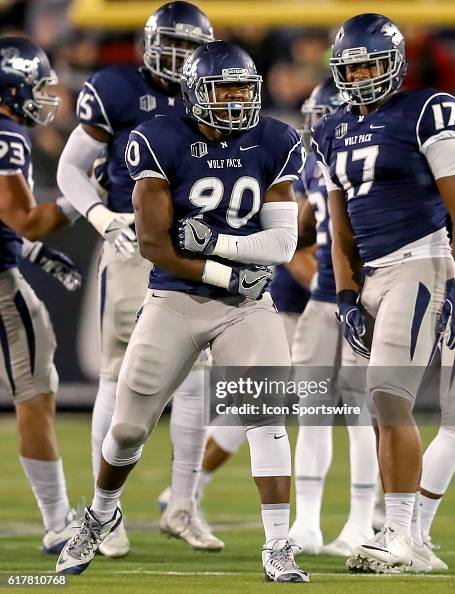 Nevada Wolf Pack
The official account of Nevada Wolf Pack football
Head coach Jay Norvell; coordinators Matt Mumme and Jeff Casteel
The local beat – Chris Murray (Reno Gazette-Journal), Nathan Shoup (Sparks Tribune), Joe Santoro
The school newspaper – The Nevada Sagebrush
Broadcasters – John Ramey
Quarterback – David Cornwell, Kaymen Cureton, Griffin Dahn, Ty Gangi, Cristian Solano
Running back – Isaiah Hamilton, Jaxson Kincaide, Akeel Lynch, Kelton Moore
Wide receiver – Andrew Celis, Kaleb Fossum, Theo Goodwin, Tucker Melcher, Trevion Armstrong, Tyson Williams, Brendan O'Leary-Orange
Tight end – Miles Beach, Colin Flannery, Brandon Scott
Offensive lineman – Nate Brown, Carl Burton-Hill, Nathan Edwards, Sean Krepsz, Marshall Levins, Jake Nelson, Austin Corbett, Jeremy Macauley and Thomas Newton
Defensive lineman – Kori Collons, Jacob Drahos, Nick Gregg, Hausia Sekona, Ricky Thomas Jr., Korey Rush, Kalei Meyer, Malik Reed, Patrick Choudja
Linebacker – Maliek Broady, Daq Irby, Kameron Toomer, Roger Neal, Lawson Hall, Austin Paulhus, Gabriel Sewell
Defensive back – Brandon Brooks, Daniel Brown, Dominic Christian, Vosean Crumbie, Jimbo Davis, Daylon Johnson, E.J. Muhammad, Dameon Baber, Riley Brand, Tyler Crandall, Kevin Howell, Kendall Johnson, Marcus Lucas, Elijah Mitchell, Jimbo Davis, Asauni Rufus, Devoreaux Stewart, Randy Uzoma
Specialists – Spencer Pettit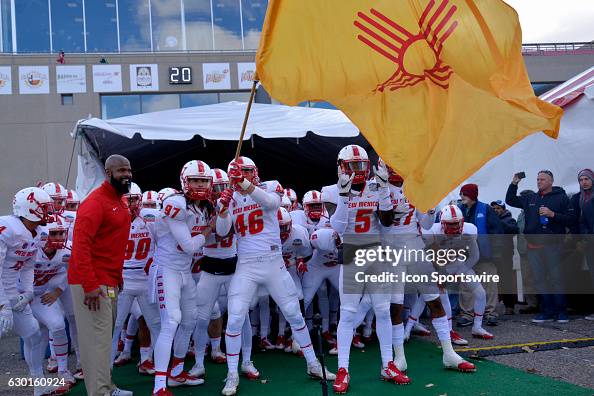 New Mexico Lobos
The official account of New Mexico Lobos football
Offensive coordinator Bob DeBesse and defensive coordinator Kevin Cosgrove
The local beat – Rick Wright (Albuquerque Journal), Van Tate (KRQE), Bob Brown (KQTM)
The school newspaper – The Daily Lobo
Broadcasters – Robert Portnoy
Mascot – Lobo Louie and Lobo Lucy
Quarterback – Cameron Burston, Coltin Gerhart, Tavika Tuioti, Lamar Jordan, Derek Martinez
Running back – Daryl Chestnut, Richard McQuarley, Tyrone Owens, Diquon Woodhouse, Romell Jordan, Kentrail Moran and Daevon Vigilant
Wide receiver – Chris Davis, Q' Drennan, Jay Griffin IV, Delane Hart-Johnson, Anu Somoye, Cameron Thomas, Anselem Umeh
Tight end – Marcus Williams, Cole Gautsche, Nick Lehman and Michael Walsh
Offensive lineman – Ray Baylor, Jonathan Brys, Blaise Fountain, Nicholas Iacovangelo, Avery Jordan, Taylor Lindsay, Kameron Smith
Defensive lineman – Cody Baker, Garrett Hughes, Everett Joseph, Kene Okonkwo, Everett Powell
Linebacker – DaQuan Baker, Nico Bolden, Jordan Flack, Alex Hart, Steven Steele, Kimmie Carson, Dyson Chmura, Donnie White
Defensive back – Corey Hightower, Elijah Lilly, Blair Manly, Kameron Miller, Gabe Ortega, Bijon Parker, D'Angelo Ross, Kyle Rothschiller, Michael Sewell, Dorset Valdez, Jacob Girgle, John Russo, Daniel Henry, Jake Rothschiller, Ryan Santos, Kenneth Maxwell
Specialists – Vincent Alerding, Jared EnRico, Lon Hampton, Jason Sanders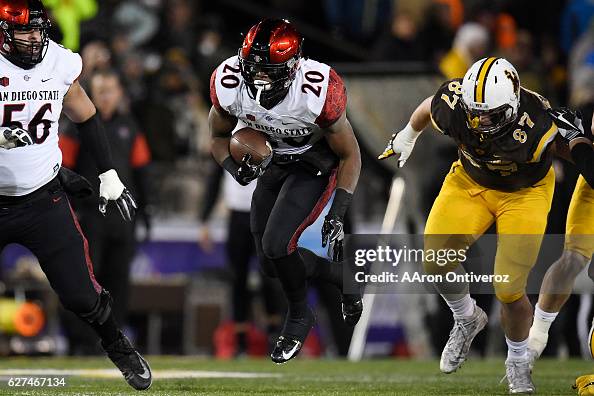 San Diego State Aztecs
The official account of San Diego State Aztecs football
Head coach Rocky Long; coordinators Danny Gonzales and Jeff Horton
The local beat – Tod Leonard, Kirk Kenney (San Diego Union-Tribune); Ruben Meza (Aztec Sports Report), Mick McGrane
The school newspaper – The Daily Aztec
Broadcasters – Ted Leitner, Kirk Morrison, Jordan Carruth
Quarterback – Chris Laviano, Mark Salazar, Ryan Agnew, Christian Chapman
Running back – Chance Bell, John Carroll, Isaac Lessard, Alex Valenzuela, Tyler Wormhoudt, Nick Bawden, Chase Jasmin, Rashaad Penny, Juwan Washington
Wide receiver – Ethan Dedeaux, Kyre Richardson, Quest Truxton, Tim Wilson, Christian Cumberlander, Mikah Holder, Eric Judge, Isiah Macklin, Kendrick Mathis
Tight end – David Wells, Parker Houston, Darryl Richardson, Kyle Spalding, Kahale Warring
Offensive lineman – Derrick Achayo, Keith Ismael, Kyle Spalding, Daishawn Dixon, Arthur Flores, Nick Gerhard, Tyler Roemer, Joe Salcedo, Douglas Tucker II
Defensive lineman – JonDarius Gardner, Anthony Luke, Noble Hall, Damon Moore, Sergio Phillips, Dakota Turner
Linebackers – Temerick Harper, Jay Henderson, Ronley Lakalaka, Caden McDonald, Randy Ricks, Kyahva Tezino, John Carroll, Kaelin Himphill, Dru Mathis
Defensive back – Jerry Chaney, Jeff Clay, Darren Hall, Dwayne Johnson, Dwayne Parchment, Tariq Thompson, Parker Baldwin, Parie Dedeaux Jr., Tayler Hawkins, Kameron Kelly, Trey Lomax, Ron Smith, Keone Stallworth, Will Stricklin II, Kyrie Woods
Specialists – John Baron II, Turner Bernard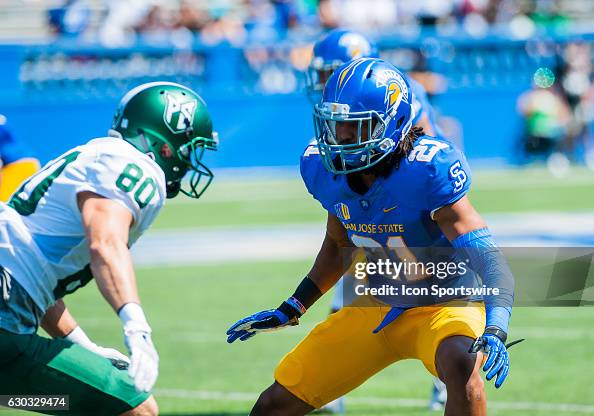 San Jose State Spartans
The official account of San Jose State Spartans football
Head coach Brent Brennan; coordinators Andrew Sowder and Derrick Odum
The local beat – The Spear, Kavin Mistry
The school newspaper – The Spartan Daily
Broadcasters – Justin Allegri, Kevin Richardson
Quarterback – Terrell Carter, Ryan Johnson, Sam Allen, Michael Carrillo, Josh Love
Running back – Jerrell Alberty, Tyler Nevens, Brandon Monroe, Zamore Zigler
Wide receiver – Antwaun Ayers, Thai Cottrell, Austin Liles, Leki Nunn, Bailey Gaither, Justin Holmes, Ray Surry
Tight end – Billy Humphreys, Jackson Parks, Josh Oliver and Cameron Woodard
Offensive lineman – Chris Bradberry, Jesse Chamberlain, Jake Colman, Tyler Stevens, Nate Velichko, Dominic Frederickson, Kyle Hoppe, Troy Kowalski, Jack Snyder
Defensive lineman – Sinjun Astani, Jamaar Hardy, Christian Johnson, Cameron Woodard, Bryson Bridges, Malik Hayes
Linebacker – Jackson Burrill, Justin Parcells, Tysyn Parker, Jamal Scott, Rico Tolefree, Frank Ginda, William Ossai
Defensive back – Johnny Balderas, Brandon Ezell, Cameron Smith, Tre White, Ethan Aguayo, Dominic Barnes, Andre Chachere, Chandler Hawkins, Chad Miller, Dakari Monroe, Tre Webb
Specialists – Bryce Crawford, Brian Papazian, Michael Carrizosa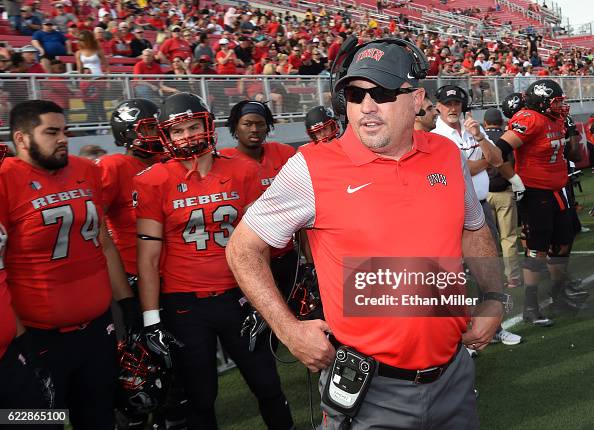 UNLV Rebels
The official account of UNLV Rebels football
Head coach Tony Sanchez; coordinators Kent Baer and Barney Cotton
The local beat – Mark Anderson (Las Vegas Review-Journal); Ray Brewer, Mike Grimala (Las Vegas Sun)
The school newspaper – The Scarlet and Gray Free Press
Broadcasters – Caleb Herring
Mascot – Hey Reb!
Quarterback – Marckell Grayson, Armani Rogers, Johnny Stanton
Running back – Tariq Hollandsworth, Charles Williams, Lantz Worthington, Lexington Thomas
Wide receiver – Jeremy Clark, Andre Collins Jr., Jericho Flowers, Brandon Presley, Drew Tejchman, Elijah Trosclair, Darren Woods Jr.
Tight end – Noah Bean, Giovanni Fauolo, Tim Holt, Trevor Kanteman, Jamaal Neal
Offensive lineman – Sid Acosta, Matt Brayton, Jaron Caldwell, Gray Davis, Andrew Erbes, Julio Garcia, Nathan Jacobson, Ashton Morgan, Justice Oluwaseun, Donovan Outlaw, Justin Polu, J'Ondray Sanders, Daniel Schoene, Zack Singer
Defensive lineman – Ammir Aziz, Nick Dehdashtian, Mike Hughes Jr., Rodney Jones, Roger Mann, Nate Neal, Angel Torres, Kolo Uasike, Salanoa-Alo Wily, Antonio Zepeda
Linebacker – Farrell Hester, Spencer Katoanga, Gabe McCoy, Brian Keyes, Bailey Laolagi, Jacob Rominger, David Tate Jr.
Defensive back – Tykenzie Daniels, Greg Francis, Demitrious Gibbs, Robert Jackson, Kyle Moses, Evan Austrie, Javin White
Specialists – Joe Lang, Evan Pantels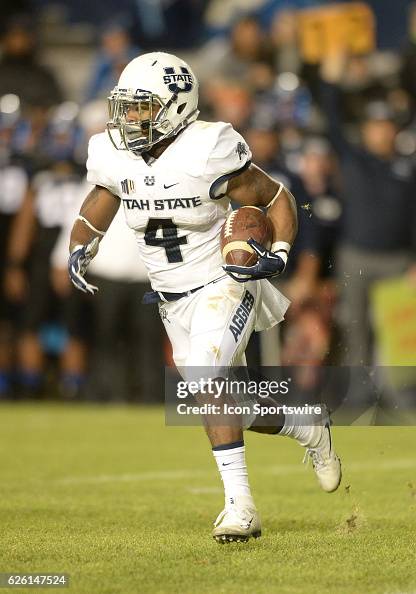 Utah State Aggies
The official account of Utah State Aggies football
Head coach Matt Wells; co-defensive coordinators Kendrick Shaver and Frank Maile
The local beat – Jason Turner (The Herald Journal-Cache Valley)
The school newspaper – The Utah Statesman
Broadcasters – Scott Gerrard
Mascot – Big Blue
Quarterback – Henry Colombi, Jordan Love, Kent Myers, D.J. Nelson
Running back – Morian Walker, Justen Hervey, LaJuan Hunt, Tonny Lindsey
Wide receiver – Jordan Nathan, Dylan Spradling, Ron'Quavion Tarver, Chad Artist, Alex Byers, Jaren Colston-Green, Braelon Roberts, Zach van Leeuwen
Tight end – Travis Boman, Damion Hobbs, Matt Nelson, Dax Raymond
Offensive lineman – Roman Andrus, Rob Castaneda, Quin Ficklin, Villiamu McMoore, Ryan Pope, Ty Shaw, Cody Boyer, Roderick Smith, Sean Taylor
Defensive lineman – Jake Pitcher, Keith Tambe, Jake Templeton, Adewale Adeoye
Linebacker – Dalton Baker, Kevin Meitzenheimer, Justus Te'i, David Woodward, Chasen Andersen, Chase Christiansen, Mason Tobeck
Defensive back – Jay Brown, Baron Gajkowski, Braxton Gunther, Cameron Haney, Wesley Bailey, Jalen Davis, Marquan Ellison, Gaje Ferguson, Dallin Leavitt, Kevin Ogwu, Jontrell Rocquemore, Aaron Wade
Specialists – Trevor Bowens, Dominik Eberle, Zach Lee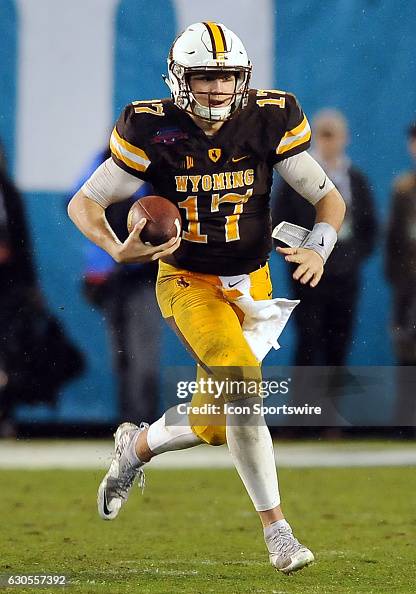 Wyoming Cowboys
The official account of Wyoming Cowboys football
Head coach Craig Bohl; coordinators Scottie Hazelton and Brent Vigen
The local beat – Brandon Foster, Robert Gagliardi
The school newspaper – The Branding Iron
Quarterback – Josh Allen, Tyler Vander Waal, Nick Smith
Running back – Jeff Burroughs, Garrett Gardner, Jaylon Watson, Nico Evans, Milo Hall, Matt List, Kellen Overstreet, Drew van Maanen
Wide receiver – Austin Conway, Dontae Crow, Parker Dumas, Ayden Eberhardt, C.J. Johnson, Isaac Leppke, John Okwoli, Jared Scott, Jerard Swan, Isaac Jefferson, James Price
Tight end – Austin Fort, Josh Harshman, Sam Maughan, Nate Weinman, Tyree Mayfield
Offensive lineman – Patrick Arnold, Justus Borton, Gavin Rush, Paul Schwab, Rudy Stofer, Zach Thatcher, Alonzo Velazquez, Jace Webb, Dustin Weeks, Ryan Cummings, Dalton Fields, Kaden Jackson, Brinkley Jolly, Cole Turner
Defensive lineman – Garrett Crall, Gavin Dunayski, Youhanna Gaifan, Jack Haen, Javaree Jackson, Taniela Lolohea, Kevin Prosser, Shiloh Windsor, Conner Cain, Carl Granderson, Sidney Malauulu, Trevor Meader
Linebacker – Christian Irving, Cassh Maluia, Skyler Miller, Jahmari Moore, Jalen Ortiz, Logan Wilson, Ben Wisdorf, Chavez Pownell
Defensive back – Keyon Blankenbaker, Tyler Hall, Alijah Halliburton, Anthony Makransky, Riley Sessions, Braden Smith, Sidney Washington Jr., DeAndre Watson, Marcus Epps, Rico Gafford, Tim Kamana, Andrew Wingard
Specialists – Kolton Donovan, Cooper Rothe, Nick Szpor, Tim Zaleski